Selected newspaper-Lin Pao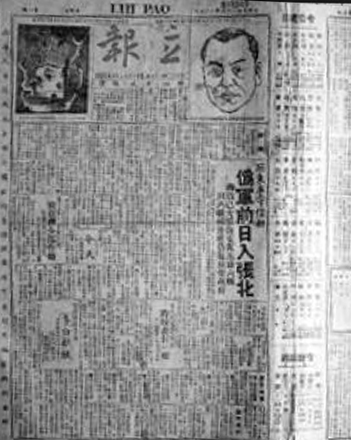 Chinese name:立报
Publisher:Lin Pao Press
English Name:Lin Pao
Language:Chinese
Type:Business newspapers
Interval of issue:Daily
First issue:September 20th, 1935
Final issue:June 2nd, 1949
Other edition:
Supplement:Yan Lin, Hua Guo Shan, Xiao Cha Guan
Related celebrity:Cheng Shewo, Xiao Tongzi, Yan Esheng, Wu Zhongyi
Brief introduction:Lin Pao was an influential small newspaper at the time of Anti-Japanese War. It was first issued on September 20th, 1935 from the joint financial support of Cheng Shewo, Xiao Tongzi, Yan Esheng and Wu Zhongyi, with Cheng as president, Zhang Youluan, Sa Kongliao as editor-in-chief, Yan as manager, Yun Yiqun as editor of international news, Xie Liuyi and Zhang Henshui as editors.
On November 13th, 1937 (26th year of the R.O.C), Shanghai Municipal Council in concession ordered all anti-Japanese newspapers to stop publishing and Lin Pao was forced to close on November 25th.
After the victory of Anti-Japanese War, Lu Jingshi, Kuomintang official in Shanghai Municipal Government, had established another Lin Pao in Shanghai with Du Yuesheng as chairman of the board. The newspaper was reactionary in content and ran counter to the purpose of original Lin Pao. It was closed on April 30th, 1949, right before the liberation of Shanghai.