Selected newspaper-Xinmin Po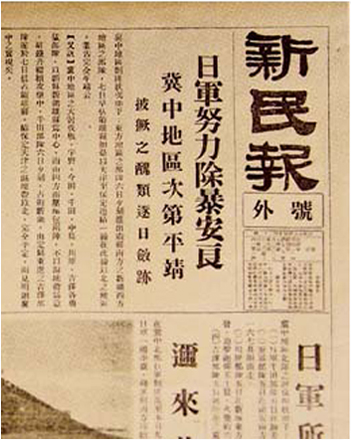 Chinese name:新民报
Publisher:Xinmin News Press
English Name:Xinmin Po
Language:Chinese
Type:Business newspapers
Interval of issue:Daily
First issue:September 9th, 1929
Final issue:April 1st, 1958
Other edition:Nanjing /Shanghai /Chongqing /Beijing /Chengdu Edition
Supplement:Hu Lu, Xin Yuan Di, Ye Hua Yuan
Related celebrity:Chen Mingde、Wu Zhusi、Liu Zhenghua
Brief introduction:Xinmin Po, which was first issued on September 9th, 1929, was the predecessor of Xinmin Evening News today. The newspaper was established by Chen Mingde, Wu Zhusi and Liu Zhenghua, with Chen Mingde as the president. After the September 18th Incident, the newspaper was actively engaged in promoting anti-Japanese campaign.
On July 1st, 1937, the press established Nanjing Xinmin News Press Co., Ltd to transform into a modern news enterprise, with Xiao Tongzi as chairman of the board and Chen Mingde as general manager. In November, Xinmin Po was moved to Chongqing for publishing. Till May, 1946, the newspaper had been developed into "Eight papers in five presses" in China.
In April, 1950, Shanghai edition of Xinmin Po became the only one left from the "Eight papers in five presses" due to suppression from Kuomintang reactionaries. Xinmin Po was changed into Xinmin Evening News on April 1st, 1958.