Selected newspaper-Evening News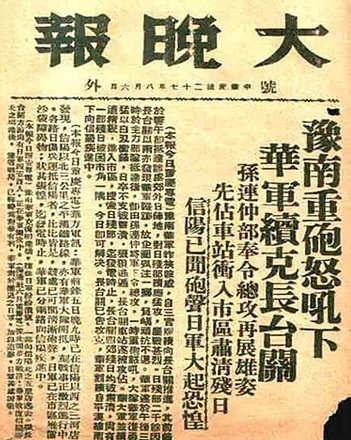 Chinese name:大晚报
Publishing house:Evening News Press
English Name:Evening News
Language:Chinese
Category:Business newspaper
Period:Evening paper
Establishing time:February 12th, 1932
The final issue time:May 26th, 1949
Other edition:National Crisis Special Edition
Supplement:Mei Zhou Wen Xue, Jian Ying, Huo Ju
Famous newspaperman:
Brief introduction:Evening News was first issued on February 12th, 1932(21th year of the R.O.C). It was started as temporary edition and officially changed into Evening News on April 15th the same year. The paper was founded by Zhang Zhuping, with Zeng Xubai as general manager and chief writer. Evening News was under the jurisdiction of joint office of "four presses", namely China Times, the China Press, Evening News and Shen Da News Agency.
In the autumn of 1935(24th year of the R.O.C), Zhang Zhuping sold the "four presses"to Kong Xiangxi, which led to the fact that Evening News became the voice of Kong's family. During the Shong-hu Anti-Japanese War, the newspaper hired Cao Juren as the war correspondent, whose news reports were highly regarded by readers. After Kuomintang's 19th Army evacuated from Shanghai in 1937(26th year of the R.O.C), the newspaper received news inspection and degraded into one of the traitor newspapers. In November the next year, Evening News was turned into a British Enterprise, registered in Hong Kong, distributed via the independent publisher managed by B.H.Fleet and thus returned to anti-Japanese stand facing the suppression from Japan and Puppet Government. With the outbreak of Pacific War on December 8th, 1941(30th year of the R.O.C), Shanghai was surrounded by enemy troops and Evening News was forced to stop publishing.
After the victory of Anti-Japanese War, the newspaper resumed publication on September 1st the same year in Shanghai, with joint effort of Wang Lesan (former accountant of Evening News), Wang Tiran and Wang Jincheng. Wang Tiran resumed his post as chief writer, Wanglesan as general manager and Zhu Manhua as editor-in-chief. However, the circulation decreased after the war and the newspaper was eventually closed out on May 26th, 1949.